---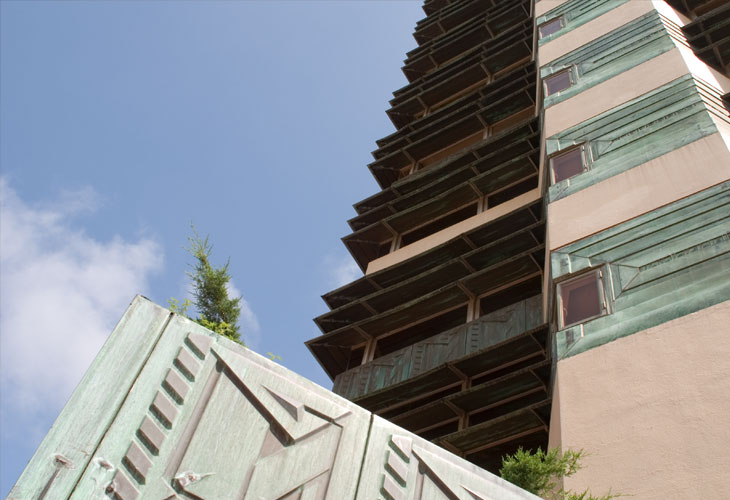 FRANK LLOYD WRIGHT
Price Tower - 1956
510 Dewey Ave, Bartlesville, Oklahoma
The price tower is probably one of Wright's least organic buildings. When Harold Price approached Wright to design him a set of offices for his business, Wright saw an opportunity to rehash a design for a tower which he had originally proposed as part of a New York apartment complex. In New York, the towers would appear natural, but in a small town on the open prairie the Price Tower is certainly an anomaly.

Because Price's requirements for an office building were far less than what had inspired the apartment buildings in New York, Wright had to adapt his design. I suspect that the introduction of apartments into the brief would have been made by Wright to justify adding additional floor space, so the building could maintain the slender profile proper of a skyscraper. Even with these apartments the building would have appeared stumpy, and so Wright shrunk the plan of the building, and raised the floor to ceiling heights. The result is a building with incredibly tight but tall spaces.

I went through the tower with three other people and it was impossible for us to all fit in the elevator lobby; it really felt no larger than a closet. Walking through the thin hallways, I felt as though my shoulders would touch both sides. One of the more interesting repercussions of shrinking the plan while stretching the elevation is found in the apartments. The apartments have a mezzanine loft-type configuration with a concrete staircase between levels. The treads of the stairs have been reduced while the risers have been raised, creating a staircase that is really more like a ladder.

The tower uses more or less square floor slabs inlaid with a parallelogram grid. The slabs are dissected by a pinwheeling massive element that divides the floor into four quadrants; three for offices and one for apartments. Copper panels pressed with geometric designs are used as sun shades and as a cladding material that moves from within the building and out through the glazing.

For many years Bruce Goff was a tenant of one of the apartments in the Price Tower. Today it is operated as an art museum and a hotel, with a fit-out designed by Zaha Hadid.

---
Copyright 2013. Andrew T Boyne Architect. A: 69 Stanley St Nedlands 6009 Western Australia P: 0423601604 E: architect@andrewtboyne.com
---