---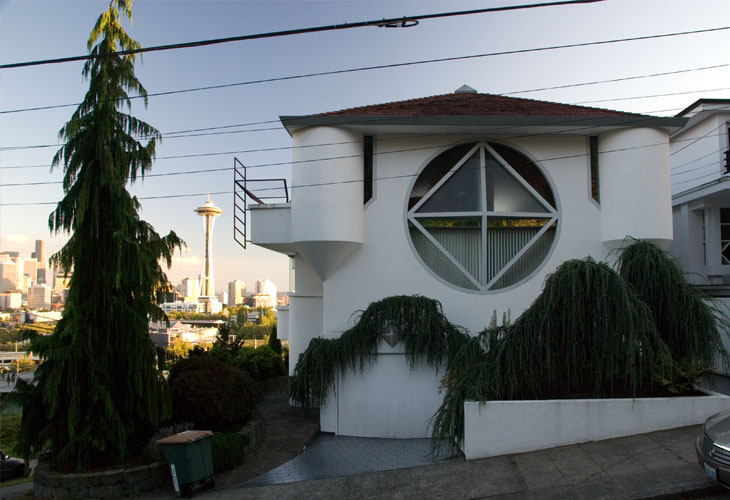 BRUCE GOFF
Gene and Betty Taylor Alterations - 1976
7173 Ward St, Seattle, Washington
Gene and Betty Taylor commissioned Bruce Goff to remodel an existing house on Queen Anne Hill overlooking Seattle. Studying how Goff deconstructed the existing building provides an important lesson in how Goff went about creating an organic architecture.
To encourage a new flow of space through the building, Goff sought to break down the building and redefine the spaces using colliding volumes instead of skins.

In the four corners of the building, Goff introduced cylindrical closets that are reminiscent of those in the Bavinger House. These closets appear as solid volumes that break through the walls of the house. The wall adjacent to the cylinders is torn down and replaced with glass to enhance the definition between the wall and the closet. The cylinders are made visible on the second floor, where they end as conical shapes in the glass, helping to stress their presence on both floors.

Two large circular penetrations are made through the existing walls. Because the center of the circle is placed in the middle of the wall between the floors, the floor slab is brought back clear from the opening. At the opening to the side of the house, a quarter circle cut is made in the floor slab with the same center point as that cut into the wall. This makes the relationship between floors clear and facilitates a flow of space between them.

Carpet is used on the second floor to warm the master bedroom. However, the carpet is continued around the edges of the floor slab, down the walls of the stairwell and appears on the ceiling on the entry level below. This use of material connects the floor slab with the stairwell and presents them as a single element.

Mirrors are used throughout the building to enhance the depth of the space. Small 1cm square tiles were used on many surfaces to let space appear to flow through the object. Unfortunately the previous owner painted over many of them with white wall paint.
The ceiling of the master bedroom rakes with the roof and is clad in red shingles. This provides a clear separation of the ceiling from the rest of the building and suggests that it is an entirely different element, more akin to a canopy. A skylight at its zenith lets light into the room. An array of nearly full height windows run around the room, and a balcony has been attached to extend the usable space outside.
---
Copyright 2013. Andrew T Boyne Architect. A: 69 Stanley St Nedlands 6009 Western Australia P: 0423601604 E: architect@andrewtboyne.com
---