---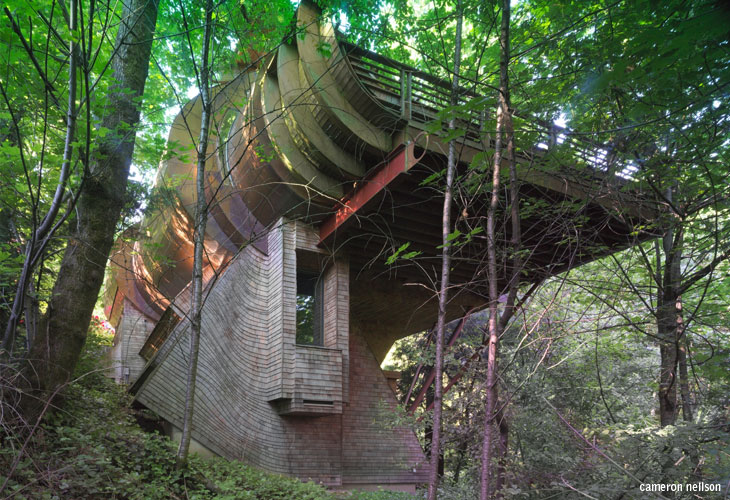 ROBERT HARVEY OSHATZ
Wilkinson Residence - 2004
Portland, Oregon
The steep slope of the Wilkinson residence's site provided an opportunity to bring the building out into the forest canopy. Entry to the house is made through a small courtyard after walking down the steep driveway. The floor then continues out over the slope as the ground rapidly drops away. By the time the cantilevered deck reaches out amongst the trees, the floor level is some 25 feet above the ground. When stepping through the front door the contrast between the shaded descent of the driveway and the explosion of bright green light, shed by leaves through every window is striking.

By letting the floor continue out at the same level, the building begins to feel like a platform held high in the forest canopy.
The most striking element upon entering the Wilkinson Residence is the architectural form. Entrance is made under a low sweeping copper roof that turns downward to form a half cylinder, and through a door that consist of a single "D" shaped piece of glass that pivots where the curved wall hits the ground. The cylindrical form then runs through the remainder of the main living space, over the kitchen, through the meditation room and is taken up by the edge of the deck which somewhat resembles a skateboarder's quarter pipe. The tube like form provides a cohesive link that seems to tie the whole composition together.

The meditation room is the culmination of the cylindrical form. Here two frameless glass doors cleverly slide back into two white rings, leaving an 8 ft. circular opening. Inside, the room is a complete cylinder; all walls and windows follow the form. The room extends past the main living space and out onto the deck where a daybed is surrounded by glass. The room allows for sunlight to enter and warm the space, while the occupant is audibly isolated from the rest of the house.

As the white walls of the main living space follow the cylindrical form and curve up over the kitchen and hallway; curved glue laminated Douglas Fir beams seem to float over, unaffected and out through the glass into the forest beyond. So too do the undulating shingles which move seamlessly through the glazing, as if there was no definition between inside and out. A frameless glazing system is used throughout the house to further facilitate the flow of space through the windows. Combined with the low cabinets, and the removal of structure from the skin of the building, these methods break down the barriers of the enclosure.

---
Copyright 2013. Andrew T Boyne Architect. A: 69 Stanley St Nedlands 6009 Western Australia P: 0423601604 E: architect@andrewtboyne.com
---