---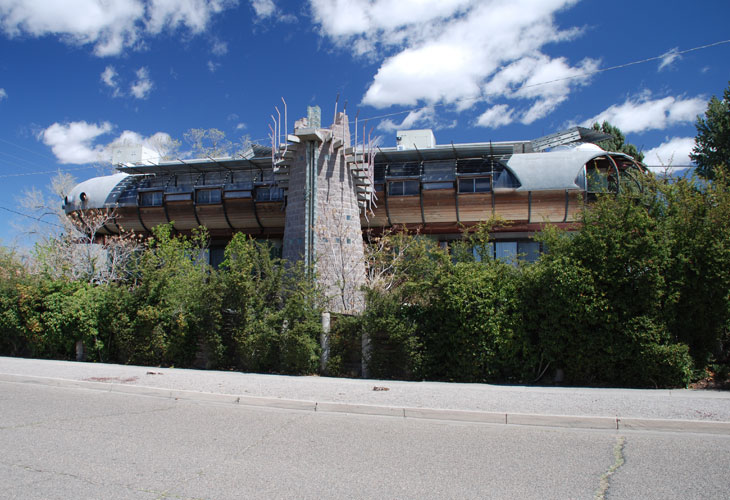 BART PRINCE
Prince Home and Studio - 1984
Albuquerque, New Mexico
Bart Prince's own house and studio is located in suburban Albuquerque and provides quite an event in an otherwise adobe streetscape. The house consists of a bridge that spans between four massive columns which accommodate stairwells. At ground level the studio and living rooms are located at opposite ends of the structure. They are each covered by translucent polycarbonate roofs that spiral away from each other in opposing directions. Both rooms are built in below grade and are accessed by spiral ramps that are enclosed by a steel wire portal.

The main living spaces are located in the bridge-like element on the top floor. Windows open along the length of the bridged level. Behind the windows, a series of large clear water tanks hold water which acts as a thermal mass, trapping the heat from the sun during the day and radiating it at night. The tubular steel frame that creates the shape of the top floor is exposed on the underside of the shape and then makes its way into the interior of the building. The earth is built up around these sunken rooms and planted with native vegetation.

The main living space is raised two stories off the ground so that it is elevated above the neighbouring trees and houses. From the balcony located at the end of the bridge form, you are able to glimpse the Sandia Mountains and the rising sun. A large concrete block tower stands to one side of the building with bridges extending to the house proper. This tower is used as a fireproof library to store rare and valuable books.

---
Copyright 2013. Andrew T Boyne Architect. A: 69 Stanley St Nedlands 6009 Western Australia P: 0423601604 E: architect@andrewtboyne.com
---