---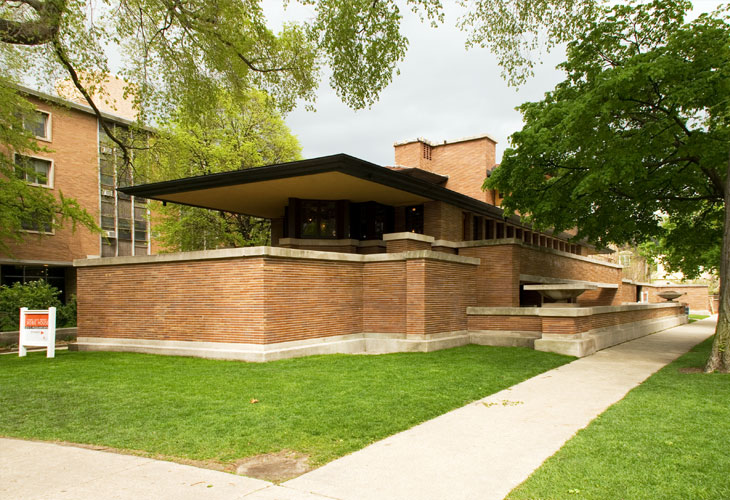 FRANK LLOYD WRIGHT
Fredrick C. Robie House - 1910
5757 S. Woodlawn Ave, Chicago, Illinois
The Robie House was built for Fredrick C. Robie who was 28 years old. Robie had studied engineering and was manager of his father's company, which at the time was the largest manufacturer of motorized bicycles in the world. Unfortunately, due to a number of reasons unrelated to the house itself, Robie was forced to sell the house after just 14 months of occupancy.

The house is the ultimate example of the Prairie style; expressing the endless landscape of the American prairie with its long, deliberate horizontal lines, and a roof which seems to cantilever into space. Sitting abreast the street, the house seems to conjure up speed and movement, which is very fitting for a client associated with building motorbikes.

Entry is made on the opposite side of the house to the famous façade, underneath a very low ceiling that follows the typical pattern of Wright's prairie houses which always obscured the entrance. The main living space is then accessed via a sizable entry room and up a set of stairs. The lounge room and dining room on the second floor are part of an elongated open space lined with floor to ceiling glass doors, and punctuated only by a heavy brick fire place. The dropped boarder ceiling is adorned with wood detailing that suggests a singular folded surface that is reminiscent of the approach Wright took when designing Unity Temple. While this main living space feels open to the outdoors, it is obscured from private eyes by the solid brick balustrades that enclose the balcony and the use of art glass in the doors and windows. The elongated plan gives the same impression of speed and expanse that is captured by the exterior forms. The acute prow that appears at the culmination of the room makes the room feel as if it is expanding into space.
---
Copyright 2013. Andrew T Boyne Architect. A: 69 Stanley St Nedlands 6009 Western Australia P: 0423601604 E: architect@andrewtboyne.com
---