---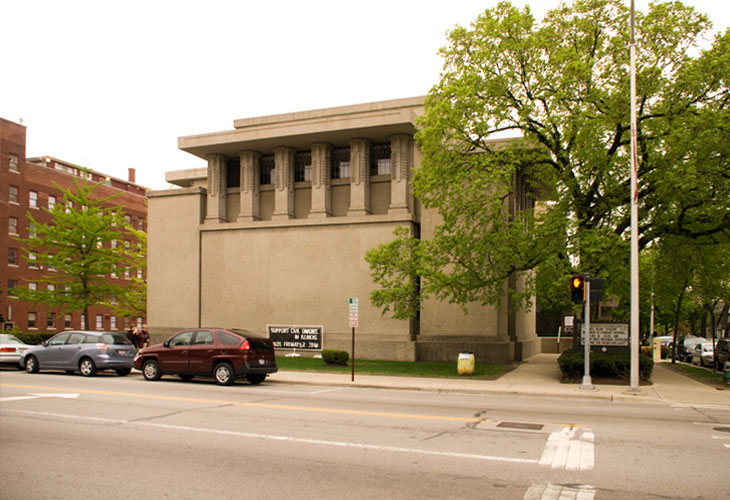 FRANK LLOYD WRIGHT
Unity Temple - 1908
875 Lake St, Oak Park, Illinois
Unity Temple was a very significant piece for Frank Lloyd Wright. It is interesting because I believe its importance came through the development of the design, and not by what Wright would have us believe was some divine inspiration. The building is important because it is believed to be the first concrete building poured in situ – yet it was originally designed as a brick structure. In the forward to "The Noble Room", Sidney Robinson explains that the revolutionary interior of the building was still being developed during construction.
Wright found the continuity of the poured concrete to be the inspiration for his interior design. In early renderings the interior is made up of more traditionally detailed columns and slabs. What is built is a design that dissolves the separate elements of the building and presents them as a continual flowing and folding surface. Through the use of wood trim and coloured paint which is wrapped around the surfaces of the room, the interior space becomes a unified whole.
I found it interesting that even though Wright claimed that the building flowed from inside out; from the interior of the building, the only hint as to what the exterior looks like is a glimpse of the raw concrete columns through the high clerestory windows.
As a piece of usable architecture, Unity temple is very thoughtfully planned and beautifully detailed. It uses a gridded ceiling to let light into the building through art glass panels. Perhaps the interior and exterior can be reconciled if we acknowledge that both embrace the continuous flow of surfaces to create a unified building.
---
Copyright 2013. Andrew T Boyne Architect. A: 69 Stanley St Nedlands 6009 Western Australia P: 0423601604 E: architect@andrewtboyne.com
---