---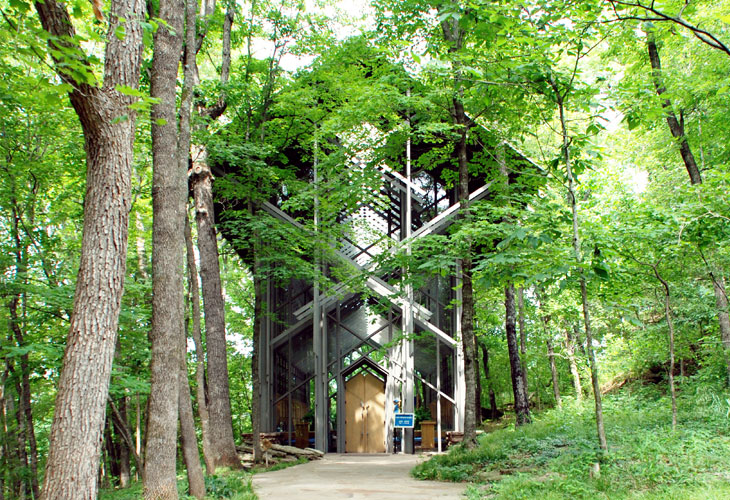 FAY JONES
Thorncrown Chapel - 1980
12968 U.S. 62, Eureka Springs, Arkansas
The most famous work by Fay Jones is undoubtedly the Thorncrown Chapel, located in a thickly wooded part of the Ozark Mountains in western Arkansas. The chapel essentially consists of a glass hall that is crisscrossed by wooden structural members.

The design of the chapel was influenced by the restrictions of the site. To maintain the thin walkway that winds through oak trees, it was essential that all the building elements could be brought up the path by just two men. The structure is supported by timber columns that are braced by a lattice of slender wood members acting in tension, ensuring the two sides of the chapel stay together. Yet, at the intersection points in the lattice, a steel fitting allows for a void, which lightens and complicates the appearance of the structure. The combination of the lattice and columns reflect the surrounding oak trees with their slender trunks and tangle of reaching limbs. The high roof, punctuated by a glass skylight, yet obscured by the tensile members, blends with the forest canopy. The base of the Chapel, constructed from native slate and stone, blends with the ground, but the rough composition has an agrarian crudeness that reminded me of Robert Frost's Mending Wall.

The glass plays very little into any impression of the space; it disappears as the columns seem to join the trunks in the forest. The wood members are stained in a subtle grey colour that matches the colour of the oak's bark and are adorned with dental details that seem to break the long vertical surfaces the same way the splits in bark do. Natural coloured wood lanterns hang from the columns. They direct light up and down and through cuts in the shape of a crucifix sewn into their surfaces. Yet their warm colour set against the grey of the structural wood provides warmth without the lamps ever being lit. The chapel cannot be used at night because the lighting is not sufficient.

---
Copyright 2013. Andrew T Boyne Architect. A: 69 Stanley St Nedlands 6009 Western Australia P: 0423601604 E: architect@andrewtboyne.com
---