---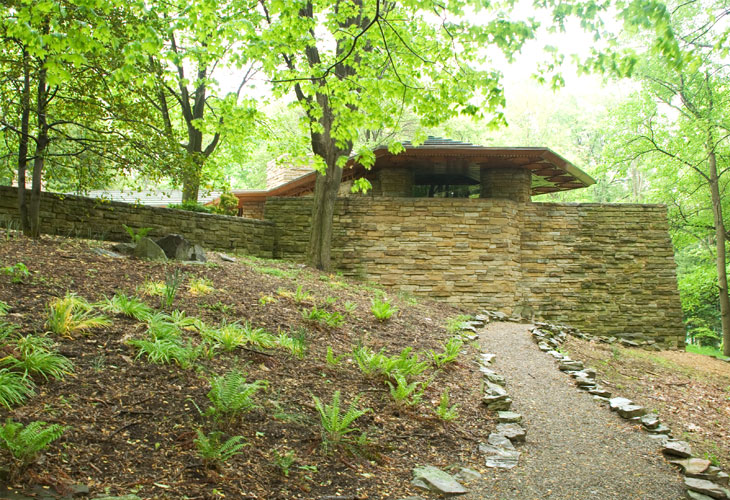 FRANK LLOYD WRIGHT
I.N. hagen House (Kentuck Knob) - 1956
723 Kentuck Rd, Dunbar, Pennsylvania
The Hagan Residence, which is also known as Kentuck Knob, was conceived by Wright without him ever having visited the site. He was however familiar with the area as the Kaufmann Residence (Falling Water) is located just 7 miles away. The house is nestled into the top of a hill that has sweeping views over the mountainous Pennsylvania countryside. Unfortunately these views are now obscured by trees which were planted around the crown of the hill to provide protection from the wind.

The house is built on a hexagonal grid pattern that is anchored by a large hexagonal kitchen enclosed in stone. Although technically a Usonian house, Kentuck Knob has larger proportions and plusher finishes than the many other Usonian houses produced by Wright's studio. The slate floors are beautiful, the stone work is stunning, and the wood work is immaculate. A sense of enclosure is gained by the dropped boarder ceiling, yet the low ceiling expands out into the environment as if there is no barrier between inside and out. Hexagonal punctures in the eaves help bring light into the house, but also help to dissolve the edge of the building. One of my favourite elements is the frameless glass at the end of the main living space (located between the two stone masses under the ceiling in the featured photograph). This glass is cut into the stone work and manages to blur the definition between inside and out.

Kentuck Knob can be so humble and delicate; blending in with its site, even to the point where it effectively disappears into the hill. Even when the building appears strong and proud, such as where the porch extends to form the high retaining prow shown in the featured photograph, there is a subtle beauty to it. I feel Kentuck Knob shares this subtlety and delicateness with the forests of Pennsylvania. It is a house that is comfortable with its environment and is very comfortable to be in.

---
Copyright 2013. Andrew T Boyne Architect. A: 69 Stanley St Nedlands 6009 Western Australia P: 0423601604 E: architect@andrewtboyne.com
---