---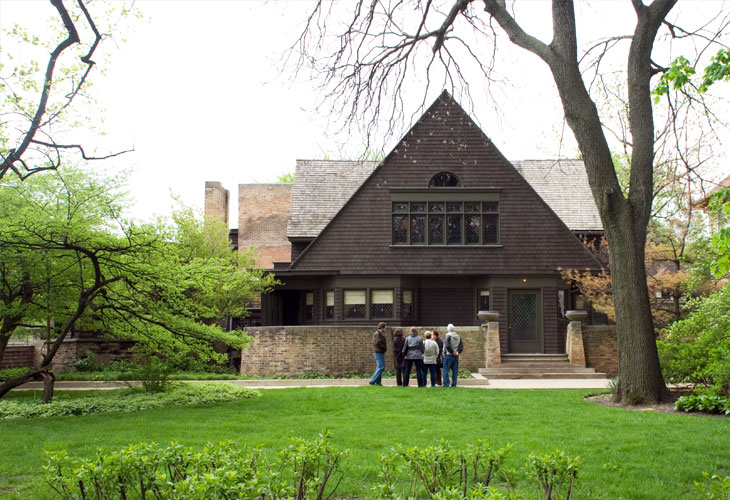 FRANK LLOYD WRIGHT
Home and Studio - 1898
951 Chicago, Oak Park, Illinois
Frank Lloyd Wright's home and studio in Oak Park is a very early example of his work. The original building is hardly organic, borrowing more heavily from the prevailing Queen Anne movement than representing a whole new form of design. The house was, however, renovated twice. By 1898, when the studio was added, signs of a new approach to design were becoming evident. The most interesting aspects of the house are the children's playroom, and the architectural studio.

The children's playroom is a large room at the top of the house that has a large plan but is scaled appropriately for children. Light enters into the room through low recessed windows which are obscured by art glass. The barrel vaulted ceiling is accented at the top by a series of wooden screens which are cut in abstract geometric patterns. Light enters into the top of the room through skylights and is filtered by the screens. At the end of the room is a fireplace with a captivating art deco mural of a fisherman and a genie taken from a story in "The Thousand and One Nights". The Children's playroom shows an understanding of proportion and a curiosity about light that would develop further in Wright's career.

Wright's addition of a working architectural studio was the final renovation work he completed while he lived in the house. The Studio addition consists of a reception room, which faces the street, and is flanked by two octagonal rooms. The low ceiling of the reception room is lit by three art glass skylights of green, gold and clear green rectangles. To one side of the reception room is a room for displaying drawings to clients, and on the other, a drafting room. The ceilings of each room is much higher than the reception room, but the drafting room is double height, with a balcony around the edge of the room; similar to the arrangement that appears in the Hillside School. The double height accentuates the sense of compression and expansion that was used throughout Wright's career.

---
Copyright 2013. Andrew T Boyne Architect. A: 69 Stanley St Nedlands 6009 Western Australia P: 0423601604 E: architect@andrewtboyne.com
---